Hi, welcome to the official author website for Aaron DeMott. I write science-fiction books.
Psygen Universe:
A New Threat (between publishers, available again soon!)
A simple diplomatic mission becomes a life and death struggle that could plunge the entire galaxy into a war…
Threat From the Past (1st draft done, being re-written)
Ensign Evelyn Mills is excited about her first assignment aboard the Goddard, until the ship is almost destroyed while investigating the mysterious disappearance of a cargo ship…
Onicranium Dragons Universe: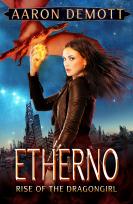 Etherno: Rise of the Dragongirl (read online)
A scholarship student's easy life at magic school is threatened when he's targeted for nefarious body-snatching–and the only one who can help is a mysterious new student with a fiery dual dragon nature.
Wings of Truth (2nd draft done)
Elrund, prince of Alandra, always believed the Vincetii people were pure evil. But when their queen is captured, he begins to question everything he thought he knew.